ChipYxa#7: spring awakening
Welcome, friends! The 7-th contest of tracker music ChipYxa is now open!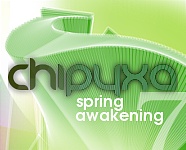 A few words about contest. Traditionally ChipYxa is chiptune compo, it means that the rules are stringent restrictions on file size. But this year's contest is also thematic.
ChipYxa # 7 contest may participate only newschool-chiptune, modules are the basis of which is an imitation of the sound chip of the old platforms (blip-blops) - are prohibited.
Perhaps some of you this will cause a storm of emotions =) But please do not make "flame" from this, better to try to experiment with the sounds of your micro-modules, use all features XM or IT formats.
However, competitive activities can include sound effects and good old oldscool-chiptune, but it should not be the basis of the composition.
Use interesting "envelopes" in the instruments, built-in effects of IT-format, anything, just to your module tune awesome, and do not be offended if your SID / AY-like tune will not pass preselect.
.rules:
- At this time, we present two nominations:
Tiny-tunes: 10 kb - module is not more than 10 kb
Thick-uncut: 100 kb - module not more than 100 kb
.schedule:
You can upload your entries via web form since February 20 till March 19.
At March 20 the vote stage starts. A compo pack would be available for download and the web voting system would be lunched.
If you have no account at ChipYha website, you should register to take a part in the compo and/or vote.
Have a nice compo time and happy tracking!
More info on the compo-stie:
http://chiptown.ru/chipyxa7/
added on the
2010-02-21 08:01:49
by
BiTL

will vote when voting is open =)
added on the
2010-03-19 10:50:48
by
Queen_Luna

The voting system will be accessible after a while!

Let listen the modulez!
http://www.chiptown.ru/chipyxa7/
added on the
2010-03-21 14:34:56
by
SCRIMERS

Some really nice songs :).
added on the
2010-03-21 22:59:00
by
wullon

Vote session is open. You can edit vote-page until April, 2th.
To vote you need to registrate at the site.
added on the
2010-03-22 18:36:30
by
SCRIMERS

added on the
2010-04-14 21:45:12
by
wullon

login