GOT PAPERS? - preserving the scene's material heritage
We haven't featured C64 disk covers for a while, so here are some from the collection of
Goat
/Laxity, which was scanned already four years ago. This big batch features 50 disk covers from the early- to mid-1990s (with one early exception from 1986), including some really extraordinary ones.
CLICK:

added on the
2019-10-25 15:52:14
by
dipswitch

Swiss Cracking Association, the legendary Zurich-based C64 group, whose archive we have covered in numerous updates, always loved to come up with something new – be it a spectacular game hack, the first Amiga virus, or a disk designing competition. In their "SCA Competition!" demo from March 1987, they made the following announcement:
SEND US YOUR MOST BEAUTIFUL 5.25" OR 3.5" DISKS. PAINT IT, SPRAY IT, DYE IT OR PUT SOME ORIGINAL STICKERS ON IT. THEN WRAP IT IN A PAPER WHICH CONTAINS YOUR ADDRESS. THE WHOLE BUNCH HAS TO BE PUT INTO AN ENVELOPE AND SENT TO THE FOLLOWING ADDRESS : PO-BOX 470 / 8037 ZUERICH / SWITZERLAND. AFTER HAVING DONE THIS, YOU LEAN BACK IN YOUR CHAIR AND WAIT FOR YOUR PRIZE… 1ST TO 3RD PRIZE: A DINNER WITH THE SCA-CREW (ALL TOGETHER, IN ZURICH) 4TH TO 10TH PRIZE: AN SCA T-SHIRT (100% COTTON, SIZE: S,M,L OR XL) 10TH TO 25TH: AN SCA-STICKER OR AN SCA SWAP-DISK.
Numerous swapping partners followed that call and sent in colourfully designed floppy disks. The SCA brothers don't remember anymore how many disks the competition ended up with, who was the winner, or whether they really did go out for dinner with them. However, at least they preserved four entries: One by future SCA member Spot 3001; two by a Danish guy called TRP, and another one by an unknown competitor. We are happy to present the scans of these colourful disks to you – as well as the scan of an original "SCA swap-disk" which was announced as one of the minor prizes.
CLICK: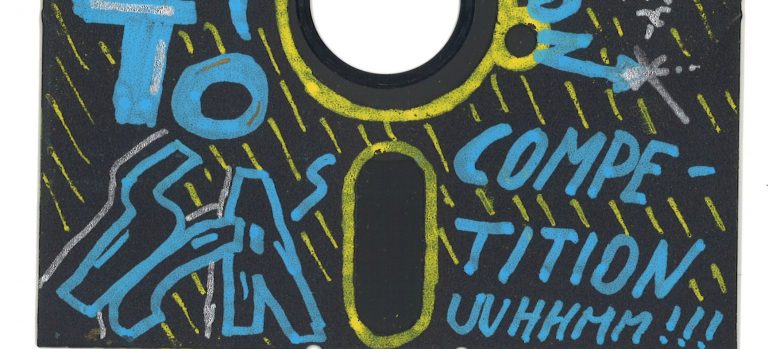 added on the
2019-11-02 03:30:25
by
dipswitch

Famous Scottish Atari ST cracker
Zippy
a.k.a Absu, member of the groups Cynix and The Medway Boys, who was very recently interviewed on Codetapper.com, provided us with photographs from his letter archive. This time, we bring you a very special portion of these documents: The inbox, so to say, of the Cynix P.O. box in Merseyside from 1992-1994. Most of these letters stem from less-known sceners or even complete outsiders, non-scene fans and users of Cynix cracks, encouraging the group to continue cracking in a time where the Atari software industry was already in decline. They were answering to a poll of sorts, initiated by Cynix themselves, who, in the scrolltexts of several crack intros, urged users to write them if they did care for Cynix to continue cracking. And they did – from all over the world! In what is just a small surviving part of the letters Cynix received, we find letters and postcards not just from all over the UK, but also from Ireland, Germany, the Czech Republic, Finland, France, Iceland, Serbia, Australia, Greece, Sweden, the Netherlands, Poland, Spain, and Slovenia. These letters – some by people who would become prominent Atari sceners, some by unknown home computer users – testify not just to the transnational audience an active cracking group could reach, but also to the fact that the cracking scene and its protagonists mattered to a lot of people far outside the scene itself. These are literally fan letters, hailing whom the authors perceived as heroes for letting them enjoy software for free.
CLICK:

added on the
2019-11-04 23:05:25
by
dipswitch

great site, makes sceners look like retards, fun.
added on the
2019-11-06 10:55:21
by
elkmoose

???
added on the
2019-11-06 17:15:16
by
v3nom

i think elkmoose is referring to the fact that letters written by enthusiastic 15-year old nerds aren't generally high prose. I think that's the charm of it, but hey, to each their own.
added on the
2019-11-06 18:27:48
by
skrebbel

that, or he's practicing his haiku skills
added on the
2019-11-06 18:36:17
by
Maali

Quote:
First of all, some exciting news: Zippy of The Medway Boys, a legendary Atari ST cracker from the early 1990s, scanned a substantial part of his letter archive for us. These letters will appear here in the very near future. For today, we have chosen a very peculiar document from his collection: A leaflet, approximately from 1992-1993, distributed by commercial software pirates at the notorious Barras street market in Glasgow, Scotland.
Quote:
Famous Scottish Atari ST cracker Zippy a.k.a Absu, member of the groups Cynix and The Medway Boys, who was very recently interviewed on Codetapper.com, provided us with photographs from his letter archive.
Codetapper's interview with Zippy
is a long and interesting read, there's quite a lot of technical discussion about cracking on the Atari ST, among other things (such as more about the Barras market.)
added on the
2019-11-21 19:39:11
by
Caradhraz

Great interview, thanks for sharing!
added on the
2019-11-23 10:57:14
by
v3nom

We start the New Year with a bang. The archive of C64 scener
Rough
had been sitting here for almost three years – until last month our heroic student assistant scanned over 400 pages in one go. With this update, we present you 269 letters by 127 individuals from 16 countries. They stem from the years between 1989 and 1998, while Rough's most active phase was between 1989 and 1992. As a self-declared "legal swapper", Rough had a lot of contacts within the early C64 demoscene. While they were spread over Europe and beyond (there are letters from Australia, Austria, Belgium, Denmark, Finland, Germany, Hungary, Israel, Italy, Netherlands, Norway, Spain, Sweden, Switzerland, Turkey and the United Kingdom), Rough's focus laid, besides his native Germany, on Austria and Hungary. Almost all big names of the early Hungarian C64 scene are present in his papers.
CLICK FOR MORE:

added on the
2020-01-04 13:47:46
by
dipswitch

Today, we present you with artefacts from 32 years of copy- and demoparties – from 1987 to 2019! Quite an astonishing time span, longer than the life span of some current demoscene members. The scans stem from the collections of
Acidchild & Bugjam, AD aka Rough, Dipswitch, Goat, Ile, Mike, Moqui, Sir Garbagetruck, Swiss Cracking Association, The Movers,
and
X-Raffi
. Some fascinating documents and objects are included – such as the paper invitation to the legendary Danish Gold 1987 party, where the first cracker standards were established; the flyer for the Beach Party 1992 which was cancelled at last minute; the invitation for the Bitnapping Party 1988 which was one of the very rare cooperations between German hackers and crackers; and many more.
CLICK:

added on the
2020-01-30 02:54:29
by
dipswitch

The letter collection of legendary Dutch C64 cracker
Honey
of 1001 Crew has provided us with a stream of treasures over the past years. Now, after five instalments, this fountain has run dry: Today, we give you the final update. It includes some fascinating materials from 1986-1987, such as letters from fellow compression expert Matcham and some well-known crackers from the very early days of the C64 scene.
CLICK:

added on the
2020-09-19 02:41:14
by
dipswitch

After a long pause, here we go with another update. We did not run out of materials, not at all – only out of time. Anyway, today we bring you the second batch (see first batch
here
) from the collection of
Jugger
/Panic, a well-known early 1990s Amiga pack editor and swapper from Germany. Here are 21 letters from between 1990 and 1992, sent to Jugger from all over Western Europe by various early 1990s Amiga sceners.
CLICK:

added on the
2021-07-25 00:42:10
by
dipswitch

login